Confused whether to take up a career in Big Data or not? Planning to invest your time in getting certified and to acquire expertise in related frameworks like Hadoop, Spark etc. and worried whether you are making a huge mistake? Just spend a few minutes reading this blog and you will get six reasons on why you are making a smart choice by selecting a career in big data.
Why Big Data?
There are several people out there who believe that Big Data is the next big thing which would help companies to spring up above others and help them position themselves as the best in class in their respective sectors.
Companies these days generate a gigantic amount of information irrespective of which industry they belong to and there is a need to store these data which are being generated so that they can be processed and not miss out on important information which could lead to a new breakthrough in their respective sector.  Atul Butte, of Stanford School of Medicine, has stressed the importance of data by saying "Hiding within those mounds of data is the knowledge that could change the life of a patient, or change the world". And this is where Big Data analytics play a very crucial role.
With the use of Big Data platforms, a gigantic amount of data can be brought together and be processed to develop patterns which would help the company in making better decisions which would help them to grow, increase their productivity and to help create value to their products and services.
Why Choose a Career in Big Data?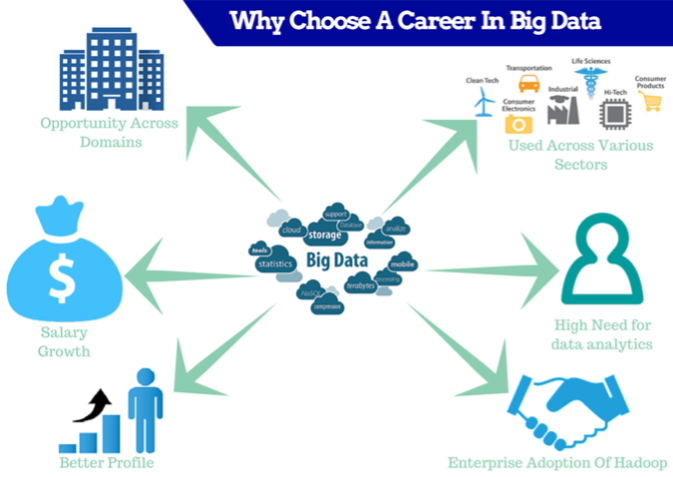 1. High need for Data Analytics-
Eric Schmidt of Google said in 2010 "There were 5 Exabytes of information created between the dawns of civilization through 2003, but that much information is now created every 2 days". And Peter Sondergaard of Gartner research stressed the significance of Data Analytics by saying "Information is the oil of the 21st century, and analytics is the combustion engine."
In order to process these data, Big Data analytics is necessary. Another analyst states that "In the next few years, the size of the analytics market will evolve to at least one-third of the global IT market from the currents one-tenths".
Hence the need for professionals with experience in the field of analytics is in huge demand as organizations are looking to benefit themselves from the power of Big Data.
2. Enterprise Adoption of Big Data-
According to an article on Forbes written by Louis Columbus based on a study "2014 IDG Enterprise Big Data Research", it was found that an average enterprise will spend about $8M on Big Data related initiatives.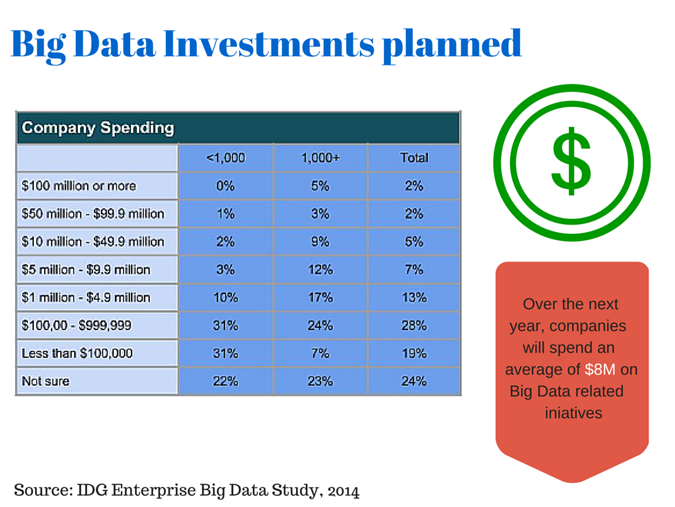 The study also says that 74% predict Big Data will be in mainstream use in at least one business unit or department.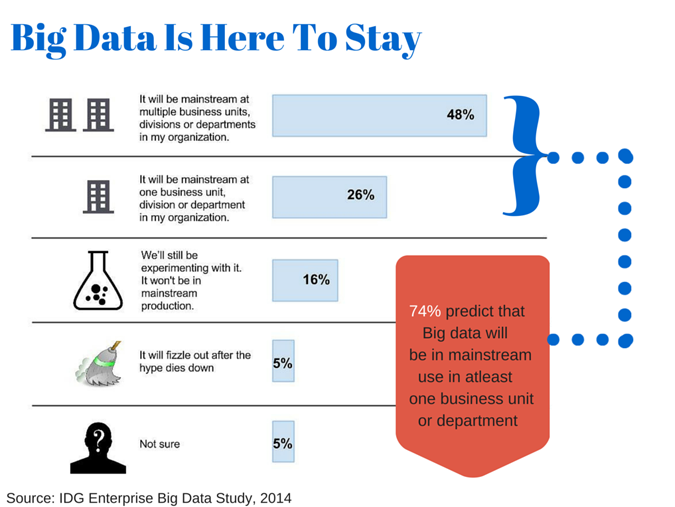 3. Better Profile:
Hal Varian, the chief economist at Google, is known to have said "The sexy job in the next 10 years will be statisticians. People think I'm joking, but who would've guessed that computer engineers would've been the sexy job of the 1990s". Data scientists are considered to be rare qualities that are very much in demand these days. In this competitive market they are difficult to hire and for the service they provide, they are difficult to retain. At the same time there are companies willing to outbid and take them in. The various Job titles available are as follows:
Big Data Analytics Business Consultant
Big Data Analytics Business Consultant
Big Data Analytics Architect
Big Data Engineer
Big Data Solution Architect
Big Data Analyst
Analytics Associate
Business Intelligence and Analytics Consultant
Metrics and Analytics Specialist
One can choose a Big Data Analytics career from 3 types of data analytics
Prescriptive Analytics
Predictive Analytics
Descriptive Analytics
4. Salary Growth:
A Forbes article on Big Data jobs in 2015 stated that "The advertised salary for technical professionals with Big Data expertise is $104,850 net of bonuses and additional compensations. Sample jobs in this category include Big Data Solution Architect, Linux Systems and Big Data Engineer, Big Data Platform Engineer, Lead Software Engineer, Big Data (Java, Hadoop, SQL) and others. With the Big Data market growing vigorously and as the demand for big data jobs overtakes the supply of talent, salary packages will remain alluring.
5. Opportunity Across Domains:
The opportunities that Big Data delivers have the capabilities to create the next big thing that could change the way we live and work. Some of the key domains for Big Data with large opportunities are such as protecting the environment; analyzing the massive sets of data available on toxic emissions and weather patterns can help us understand environmental threats on a systemic level.
Healthcare is a large and important segment with huge data challenges, mostly not structured or linked. Social media and web data; Facebook now exceeds a billion users posting, the Internet has 650 million websites, and there are 200 e-Commerce items ordered every second, which is a sizable amount of data to be analyzed.
6. Used Across Various Sectors:
Big Data Analytics is used everywhere. Based on an analysis by Wanted analytics it was found out that the top five industries hiring Big Data related expertise include Professional, Scientific and Technical Services (25%), Information Technology (17%), Manufacturing (15%), Finance and Insurance (9%) and Retail Trade (8%).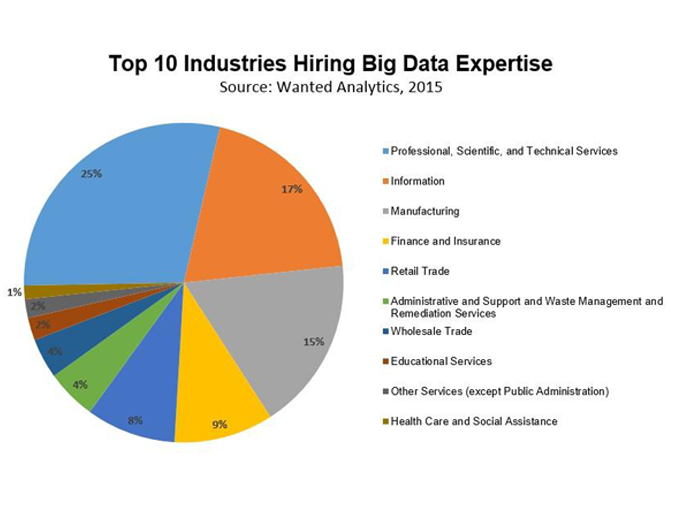 The table below provides a list of the top 10 in-demand skills and the number of big data jobs mentioning this skill.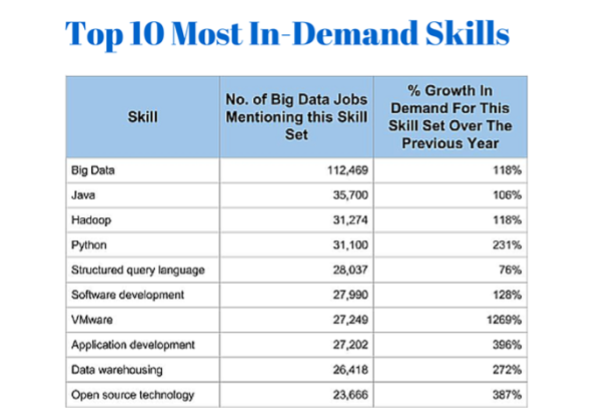 In conclusion, quoting Geoffrey Moore who stressed the importance of Big Data by saying "Without Big Data, you are blind and deaf in the middle of the freeway". No matter how much the technology develops businesses require human intuition to study these data and to come up with patterns and ideas which would help an organization to gain a competitive advantage over others. There is always going to be a demand for professionals with analytical skills so that organizations can benefit by using Big Data.
Please feel free to leave your comments in the comment box so that we can improve the guide and serve you better. Also, Follow CloudxLab on Twitter to get updates on new blogs and videos.
If you wish to learn Hadoop and Spark technologies such as MapReduce, Hive, HBase, Sqoop, Flume, Oozie, Spark RDD, Spark Streaming, Kafka, Data frames, SparkSQL, SparkR, MLlib, GraphX and build a career in BigData and Spark domain then check out our signature course on Big Data with Apache Spark and Hadoop which comes with
Online instructor-led training by professionals having years of experience in building world-class BigData products
High-quality learning content including videos and quizzes
Automated hands-on assessments
90 days of lab access so that you can learn by doing
24×7 support and forum access to answer all your queries throughout your learning journey
Real-world projects
Certificate which you can share on LinkedIn