Our past two Bootcamp on Machine Learning at National Singapore University and RV College of Engineering were very interesting and all the attendees found it very useful. These feedbacks prompted us to have more Bootcamps like these.
Thanks to Prof. Alankar, who invited us to conduct yet another Machine Learning Bootcamp at Indian Institute of Technology, Bombay. Before we move on to the details of Bootcamp, let us give you a brief introduction to Prof. Alankar. He is an Assistant Professor at IIT Bombay in Mechanical Engineering Department and works in the area of Multiscale Modeling of Deformation. He is a graduate of IIT Roorkee, holds a masters degree from University of British Columbia (Canada) and doctoral degree from Washington State University (USA). He has previously worked at Max-Planck Institute (Germany), Los Alamos National Laboratory (USA) and Modumetal, Inc (USA).
Machine Learning Bootcamp
So it all happened on Mar 17 where Machine Learning enthusiasts, which includes professors and students from every branch of IIT, gathered to attend the one day workshop on Machine Learning. The presenter was none other than Mr. Sandeep Giri, who has over 15 years of experience in the domain of Machine learning and Big Data technologies. He has worked in companies like Amazon, InMobi, and D. E. Shaw.
The participation was immense. There were more than 150 attendees for the Bootcamp, despite the fact that there were various tech-festival going on in IITB campus. Let's look at some of the memories from the Bootcamp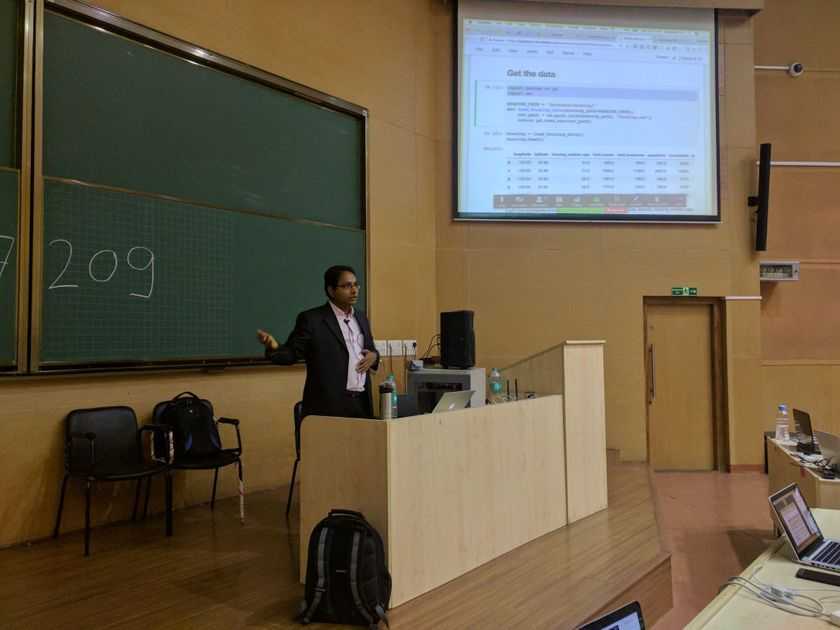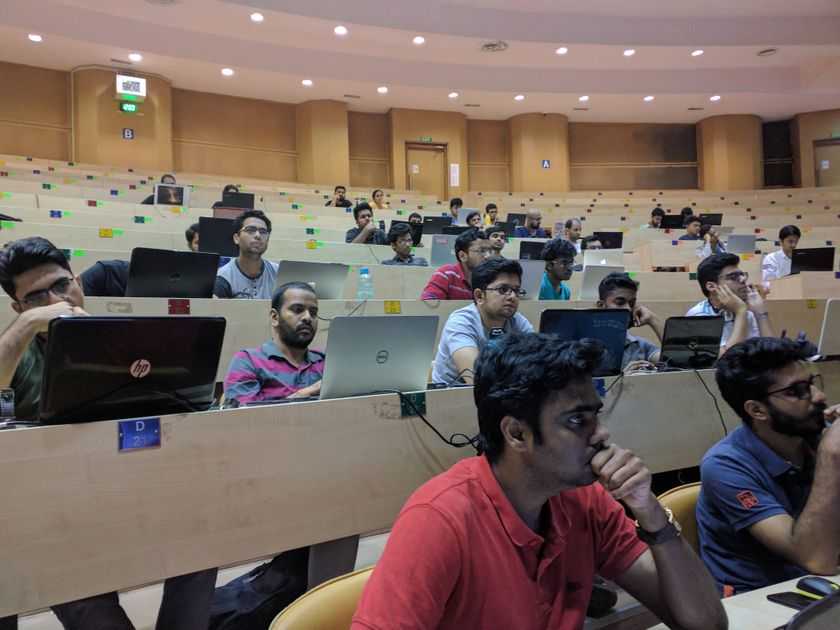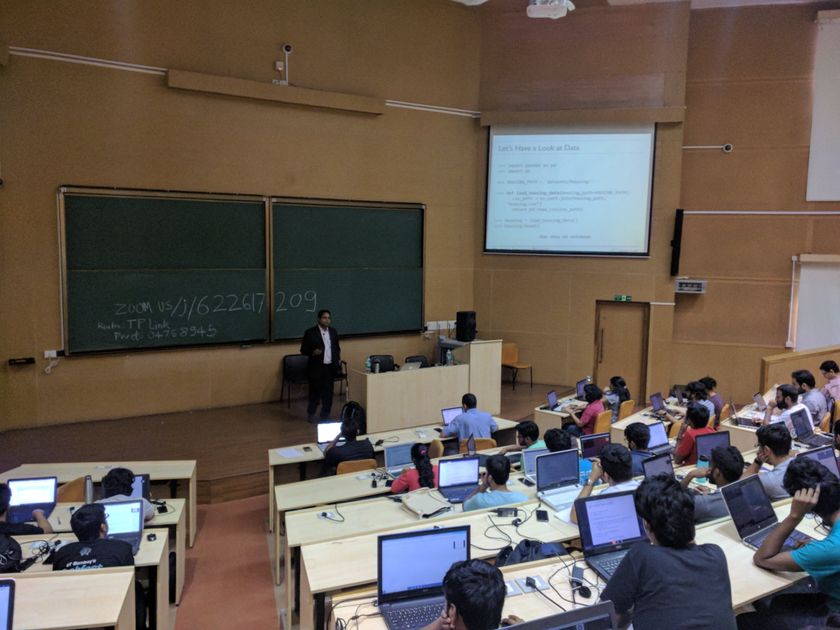 The objective of the Bootcamp was to help students in solving the problems with Machine Learning, which was why we had adopted the practical-first approach, i.e instead of teaching the general awareness around AI and Machine Learning, students should be able to do hands-on while learning the required concepts.
The environment was provided on CloudxLab, where attendees can easily do hands-on without worrying about installation and compatibility issues.
The advantage of using CloudxLab has been manifold.
Centralized Data Sets: Students can upload any dataset to the lab and use it anywhere, anytime.
No Installation and Compatibility Issues: Lab comes pre-installed with all the software to learn and practice Machine Learning and Big Data technologies.
We've learned that it is always useful to have 1 router per 20 attendees.
So the Bootcamp was started with Introduction to Machine Learning followed by the complete session on End to End Machine Learning project wherein attendees learned the important concepts of Machine Learning and AI while doing hands-on.
Next Steps
The Cloudxlab team met professors from various departments who want to solve their problems using Machine Learning. CloudxLab has decided to work with various professors to help them solve the problems using machine learning. This also opens doors to very interesting collaborations.
You can also see the presentation used in the Bootcamp here.
Also, you can find Machine Learning projects and notebooks for the course on the CloudxLab Github repository for Machine Learning.
For the complete course on Machine Learning, please visit Specialization Course on Machine Learning & Deep Learning