As the world comes to a screeching halt due to the Covid-19 pandemic, it would be reasonable to suggest that there isn't much to look forward to in the immediate future. As we lay within the confines of our homes, we realize how little it takes to upset the established order.
However, every incident that may seem gloomy on the surface has a silver lining. If there is a glimmer of brightness in the current plague besetting the planet, it may be the fact that we have an unprecedented amount of time on our hands. This time, if utilized efficiently, can help us acquire new skills which we otherwise would not be able to accommodate into our hectic schedules.
We at CloudxLab consider ourselves extremely fortunate to be able to operate at full capacity during these challenging times. We would like to extend our gratitude to our profession by enabling you to upskill yourself from the convenience of your homes. Our immediate vision is to facilitate learning to as many professionals as possible, by providing our courses at the most affordable prices yet.
This is the perfect time to upskill yourself in your field and really grow as a professional. But, before that, we hope you are taking good care of yourself by staying at home and taking all preventive measures.
We are very glad to extend this exclusive offer to you!
Flat 75% Off + Additional 25% Off + 30-days Extra Lab
Please use the coupon code LD25 during checkout to avail the above offer. Please note that this is a limited time offer and may expire any time soon.
This offer is available for ALL courses (including EICT, IIT Roorkee Certification Courses) available on CloudxLab.com.
Enroll in the most sought-after courses such as AI/ML, Data Science, DevOps, Big Data, Deep Learning, Python and more!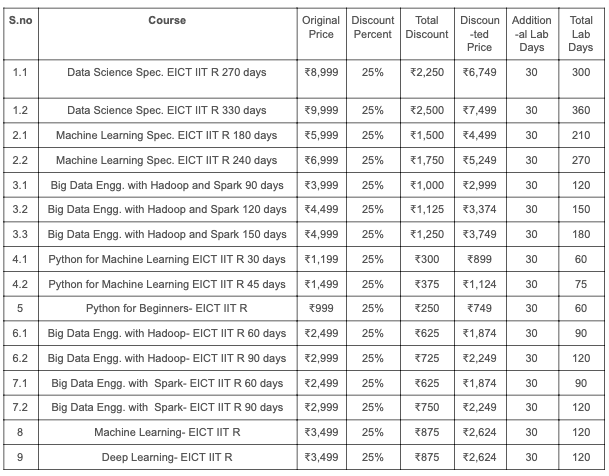 Stay home, stay safe and keep learning!
– The CloudxLab Team